In today's good news story, there has been a decline in ozone-damaging CFC (chlorofluorcarbon) emissions in China. (Paywalled, unfortunately, but the abstract is free). The ozone layer is a layer of O3 high up in the stratosphere that protects life on Earth by absorbing damaging ultraviolet light. It was realised in the late 1970s that it was being destroyed by chemicals used as refrigerants in fridges, freezers etc., leaving the infamous "hole" in the ozone layer over the Antarctic. (In practical terms, there's been about a 4% decline in ozone levels since the 1970s, and several "holes" are seen in seasonally variable patterns, but particularly at the poles). In 1986, an international treaty, the Montreal Protocol, capped emissions at 1986 levels, and committed nations to subsequent decline. Production of emissive CFCs was phased out globally in 2011, and alternative chemicals are mandated for use. This has largely been successful, and the EPA has reported a gradual trend towards "healing" of the ozone layer.
Things did seem to take a step back in 2013, however, when atmospheric monitoring revealed CFC emissions rising, largely in eastern China, suggesting illegal production. This raised a lot of alarm amongst scientists. However, it seems that the alarm was heeded and production halted, as they are now declining again. It's a refreshing reminder that, actually, environmental problems can be fixed where there's international will to do so and solutions exist. Climate change, whilst far more complex, is not insoluble.
Now I know I promised no bad news, and when it comes to the big C (Covid, not cancer) there's a saturation of excellent and not-so-good content out there. Recently, however, there's been a lot of speculation of "what happens next" once the immediate crisis is over. Is total elimination possible, or is suppression the best we can hope for? What if mutations arise that mean it "escapes" the vaccine response? And so on. On that note, Nature has an interesting and readable feature on "Covid Futures" (free to read) based on a survey of what 100 scientists working in directly relevant fields thought would happen. In particular, this infographic is very clear and useful, and indicates that, in most outcomes, the worst case scenario is avoided.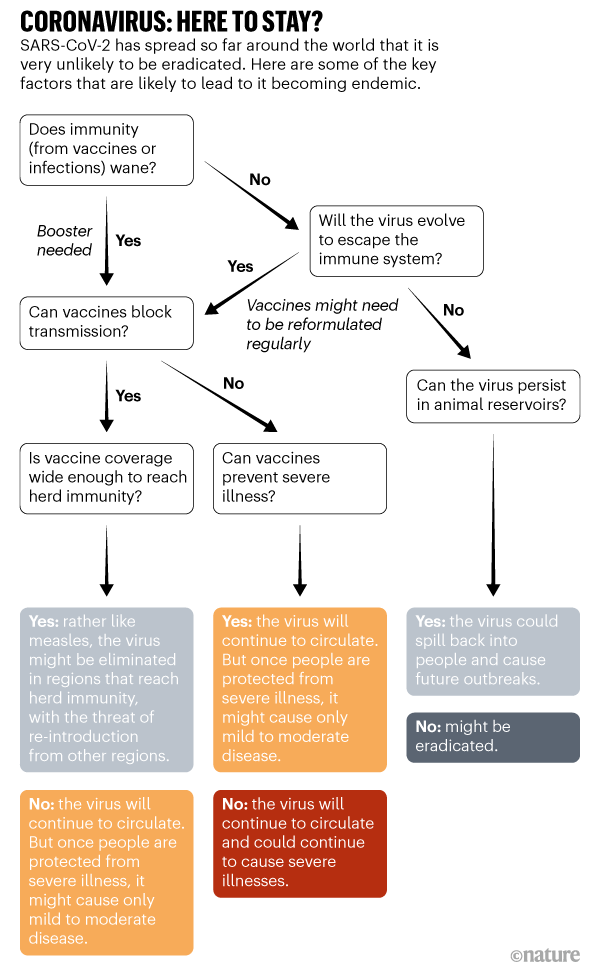 And finally, today's featured fabulous animal is the dire wolf (featured image). These large predators roamed North America from around 250,000-13,000 years ago, possibly dying off due to climate change. From the many available fossil skeletons, they appeared rather similar to grey wolves – just 20% bigger. However, a DNA analysis has proved elusive, until now. This new study has revealed that they're not really wolves at all, but in a unique lineage of canids (wolves, coyotes, foxes etc) that branched off from the others nearly 6 million years ago. What's more, they appear to have evolved in North America: the ancestors of wolves and coyotes colonised America from Eurasia later on, and did not cross-breed with the dire wolves. It's a fascinating glimpse into a divergent branch of the evolutionary tree. You can read a news piece here, or the full genetic analysis published in Nature here.
Image Credit
By Eden, Janine and Jim – Flickr: Dire Wolf Skeleton, CC BY 2.0, https://commons.wikimedia.org/w/index.php?curid=31534986